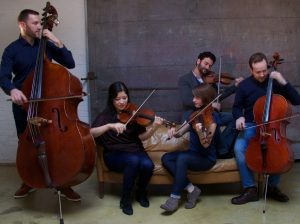 Residency at Barbès, Brooklyn, NYC, Show 1
Tonight's concert—the first of our month long residency at Barbès—will give an eclectic preview of what's to come later in September. We'll play selections from our new album Cuerdas Cubanas, string arrangements of traditional Romanian music, and a collection of original songs by our own cellist Hamilton Berry and other special guest songwriters.
Residency at Barbès, Brooklyn, NYC, Show 2: Cuerdas Cubanas
For the second show of our month long residency, we'll feature music from our new album, Cuerdas Cubanas. Featuring special guest vocalist Miss Yaya, we'll perform a range of Cuban styles, paying homage to the great artistic lineage of Ernesto Lecuona, Israel "Cachao" Lopez, Beny Moré, and Celia Cruz.
Residency at Barbès, Brooklyn, NYC, Show 3
In the third installment of Toomai's Barbès residency, we are joined by special guest violinist and composer Mazz Swift. This evening, we will pair new songs by Swift herself, Hamilton Berry (our very own!), and Jessica Pavone with Renaissance madrigals by Carlo Gesualdo, Adrian Willaert, and Thomas Weelkes.
Residency at Barbès, Brooklyn, NYC, Show 4: Romanian Music with Matt Moran and Peter Stan
For the final show of our September residency at Barbès, we are focusing on Romanian musical traditions with special guests, Slavic Soul Party!'s Peter Stan (accordion) and Matt Moran (vibraphone). In this set that combines Romanian classics with almost symphonic renditions of contemporary tunes, this collaboration offers an elegant funkiness, incorporating frenzy and excitement with soulful nostalgia.