2013 has been a great year for Toomai so far, full of interesting and varied projects, the most recent of which was an appearance on Carnegie Hall's Neighborhood Concert Series, presented at the Queens Library @ Flushing – which we learned is one of the busiest libraries in the country! It was fantastic to play for a packed theater and a line out the door.
The program was a celebration of Mexican and Cuban composers, including
Ernesto Lecuona,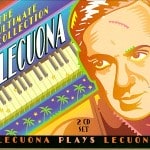 the celebrity composer and pianist of Havana; and Manuel Ponce, the beloved Mexican composer, pianist, and scholar. We also played the ethereal Reflejoes de la Noche, by Mexican composer Mario Lavista, and a brooding, contemplative slow movement from Carlos Chavez' bass quartet. We've done this program at venues in Miami and LA, but were very impressed with our Queens crowd, who joined in on Bonito y Sabroso and other classic Cuban songs. This set was a collaboration with vocalist Alina Roitstein, and was inspired by Beny Moré, Cachao, Oscar d'León, and many others. It always feels like the perfect way to end a show, too — with a celebration!
Many sincere thanks to Carnegie Hall's Neighborhood Concert Series and Target — together, they bring over 50 incredible free concerts per season to every borough of New York City.