When we're approached about conducting an educational project at a school or institution new to Toomai, we welcome the opportunity to meet new people and to acquaint ourselves with the community. But it also gives us the chance to design a whole new program especially for that audience — which in turn is an opportunity for us to explore and discover new relationships and connections between different works in our repertoire.
This past month, Toomai spent a few days in Clarksville, TN at Austin Peay State (Home of the Governors!) working with collegiate and high-school age musicians in workshops and masterclasses. We knew these students would also be in the audience at Toomai's chamber performance, so we designed the concert program with them in mind. We wanted a theme that would enhance music students' understanding of their own craft, while including the  general (non-musician) population of music lovers in our audience.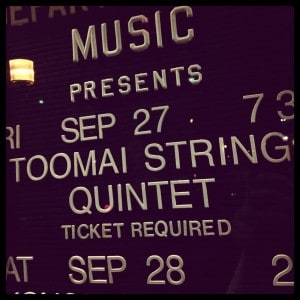 Our violist, Erin, assembled a concert program based on pieces in our repertoire that take their inspiration from vocal traditions of all kinds: secular songs, religious choral works, and early music from the Renaissance and Baroque eras. Because we're a bass quintet (a rather unusual instrumentation) our list of pieces from the classical canon is limited — so we play lots of arrangements of other works, which makes for a varied and eclectic selection of repertoire, perfect for the purposes of a program like this!
American Protestant music and the Sacred Harp vocal tradition was represented in a string quintet rendition of Henry Cowell's Hymn and Fuguing Tune No. 2. We explored the unique way Renaissance composers wrote for the voice in arrangements of madrigals by Gesualdo, Weelkes and Willaert. Musical realism and street-style troubador singing made for a rollicking good time in Boccherini's "Night Music of the Streets of Madrid". The Quintet also ventured to Mexico with our bassist Andrew's arrangements of classic Mexican popular songs by Manuel Ponce. And Bach's Goldberg Variations (arranged by Dmitry Sitkovetsky) provided an interesting look into Baroque compositional tools derived from vocal tradition – arias, canons, and folk songs.
We were thrilled to have been invited to Austin Peay, where Dr. Eli Lara, accomplished cellist, academic, and friend of the Quintet from our Juilliard days, is Assistant Professor of Music. Dr. Lara generously agreed to step in for our cellist John, who is on leave (having recently been awarded a Fulbright Study Grant for study in Austria during the 2013-2014 academic year.) We couldn't have asked for a better collaborator, and are enormously thankful for her artistic contributions to our performance in Clarksville! We were also spoiled by "one of the finest acoustical environments in the Southeast" at Austin Peay's George and Sharon Mabry Concert Hall.
You can read a review and see photos from Toomai's performance for the Clarksville Community Concert Association here. Many thanks to Austin Peay State University's Department of Music and the Clarksville Community Concert Association.